Fire investigation process
Fire investigation process
The State Coroner may choose to investigate a fire if it is in the public interest. There does not have to be loss of life.
Only a small number of fires are investigated every year.
The court has established several processes that allow different areas of the court, and those organisations who provide services to the court, to work together to investigate appropriately throughout the various stages of the coroner's inquiry.
Reporting a fire
A fire may be reported by the Country Fire Authority, Metropolitan Fire and Emergency Services Board or an individual.
Investigation
The court may request a Victoria Police member to compile a brief of evidence to assist with the investigation. This brief may include reports, statements and information about the fire. The person or organisation requesting the investigation must give any information required by the coroner.
If the coroner decides not to investigate they will provide written reasons to the person or organisation making the request.
The coroner may decide to hold an inquest to gather further information.
Outcomes
The coroner will make findings that may include recommendations. These findings are published on the court website, unless otherwise ordered.
The various process and stages of a coroner's investigation into a fire are outlined in the flowchart below.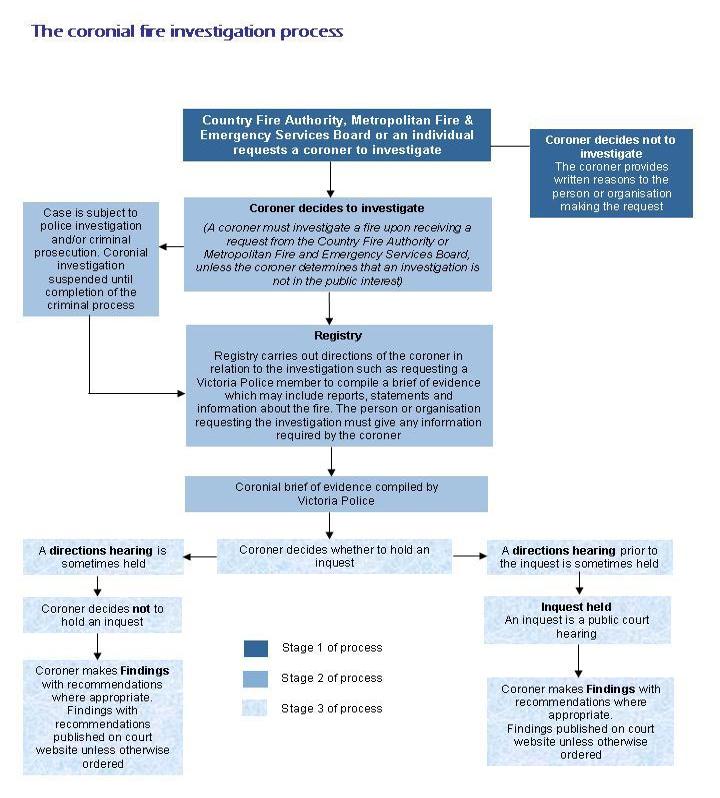 Last updated on 27 Nov 2018